Blogging
How To Monetize your Blog With Buy Me A Coffee
Sponsored Links
You can monetize your Blog with Buy Me A Coffee and get paid in dollars.
This Blogging Monetization Advice is for all bloggers looking for alternatives to AdSense and other ad platforms.
Aside from ads (example: Adsense) and affiliate means of monetization, another way to make cool money from your blog is through "gratitude donation".
And you can achieve that from the "Buy Me A Coffee" platform.
Buy Me A Coffee is a website where people can support independent content creators by making small donations.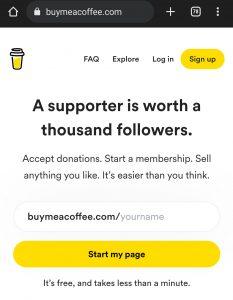 "Buy Me A Coffee" is a nice way to say "anything for your boy?"
All you have to do is sign up, and copy your "Buy Me A Coffee link" to anywhere visible to your audience on your blog.
Note: Don't be spammy, insert it at the end of your content. In a button format.
And if your content is indeed helpful to your audience, they could tip you off any amount of their choice as a reward for providing a solution/answer to their must burning questions through your content. That's a way to say "thanks to you" for your wonderful content.
You can withdraw your earnings through PayPal or into your local domiciliary account. Minimum threshold for payment is $20.
This monetization means will be most suitable if your target Tier 1 countries like USA Canada Australia or UK.
Note: Buy Me A Coffee takes a 5% commission off any donation made to you.
Sign up with BuyMeACoffee.Com to get started.
Sponsored Links