Blogging
5 Useful Tools For AdSense Arbitrage Bloggers
Sponsored Links
If you are into Adsense Arbitrage Blogging or just planning to get started, you should know about these helpful tools. They'll help you maximize your ROI. Do not forget to click on the Share button to share this message with your friends and others in need of it.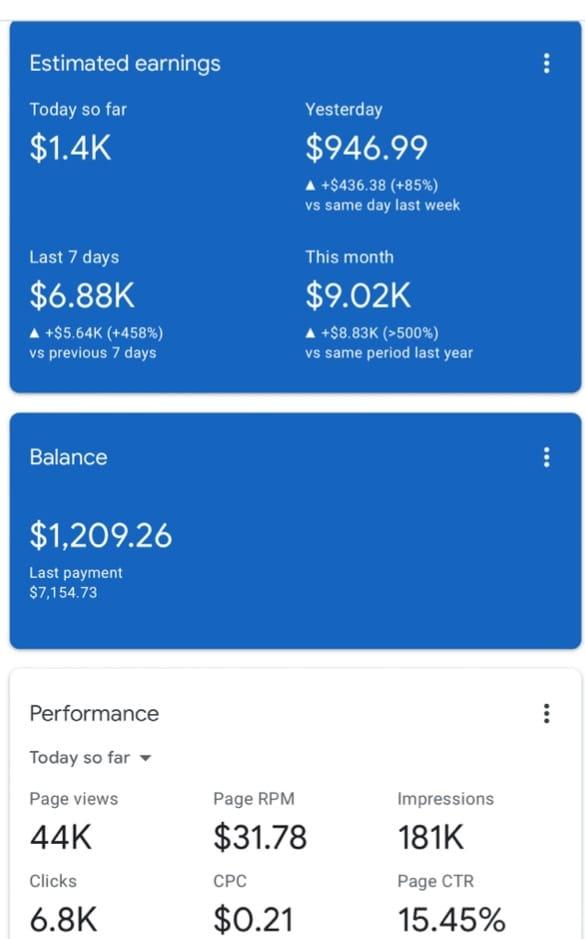 1. THE FACEBOOK ADS LIBRARY
Some of you don't even know that such a thing exists.
The Facebook Ads Library is a very powerful tool that allows you to spy on your competitor's ads, see their creatives (texts, images, and videos), page setup, and how long they have been running an ad.
As an arbitrage blogger, it's important you discover what your competitors are doing that is working perfectly for them without having to ask them. The Facebook Ads Library offers you such an opportunity.
Just log on to the platform, type your niche or industry in the search bar and click on Enter. Ads that have been running on Facebook in that niche will be shown on your screen. You will be able to see the type of images and videos to create to get good results based on what your competitors are already doing.
2. SEMSCOOP
Semscoop is a keywords research platform that allows you to figure out how much advertisers are willing to pay for clicks on articles on a particular keyword (keywords CPC), their search volume, and ranking difficulty for free.
It will also show you your top 10 competitors for that same keyword on Google's first page, their backlinks strength, and how many words you'd need to write to outrank them.
This is a better alternative if you can't lay your hands on Semrush or Ahrefs.
3. WP QUAD ADS
This is my favorite Plugin for ads placement and management on my blog. It beats Ads Inserter hands down!
This WordPress Plugin allows you to place and rotate any type of ad in strategic places, fix your ads txt issues, activate click fraud protection on your blog, and so on.
Speaking of Click Fraud Protection, it helps protect your Adsense account from invalid clicks (more than 3 clicks at once from the same IP address) whether accidental clicks or intentional ones.
Once you set it up, the Plugin will automatically stop displaying ads to a particular device once it had recorded 2 or 3 clicks from that same IP address for that day. And the good thing is, you can set it to ban such IPs and devices for up to 14 days or more.
That's premium protection from Adsense Adlimit, suspension, and ban.
4. CLOUDFLARE
Passing your website through Cloudflare will help you increase your website speed by more than 3X.
This will not only give your users a good experience on your site but also help boost your CPC and CTR.
However, I think the greatest benefit of using Cloudflare is the ability to activate what is known as Bot Protection on your website.
With Cloudflare's Bot Protection activated on your site, you will no longer have to worry about bad bots invading your website through your ad campaigns and causing you ad limit on your Adsense account.
Google will also trust your website more, thereby giving you higher rankings on their search engine results pages. That's a boost in your SEO traffic as well.
Cloudflare is so good that Ezoic recommends it as a must-have requirement for their partnership eligibility. I think you should take it seriously too.
5. A MENTOR
Nothing beats the oversight of a good mentor. Someone who has been there, seen it all, done it all. He's worth more than any tool you can find in your blogging journey. I am a product of a good mentorship program. I would never have come this far if someone didn't teach me some of the things I know today. Especially about Adsense Arbitrage.
You see, my challenge all that while was that I didn't really know or see the possibilities in the industry until I came across someone.
Who would have told me that all those blogs I built and sold could have been generating about $1000 to $5,000 every month?
How would I have known that it's possible to target over $10,000 monthly and achieve it?
Nothing of such ever occurred to me. But that's all history now. Today, with a good Adsense account, I can target any number that I want and achieve it. Yeah, it cost me a lot to learn all that I know now, but I'm grateful that I don't just know them but that I'm also reaping the rewards of having someone show those things I didn't know.
A super crazy mentor like myself today will look at your site's performance and Adsense history and tell you, "target $500 this month, target $1K this month, scale up your target to $5K, etc." and will also standby you to show you HOW to do it and make sure you achieve it. He'll also be there to point out your errors and help you correct them.
That's a priceless gift that money cannot buy. No amount of money you pay can ever be enough for that.
So today, I encourage you to not just put all these tools I mentioned in place but also have someone hold your hands and lead you on your blogging and Adsense Arbitrage journey.
I wish you all the success that this world has to offer. Win and keep winning my friend.
Don't forget to share this post and Follow this blog to keep learning from me.
Sponsored Links